CUSTOM PROBIOTICS formulates and supplies custom blends of high potency and quality single and multi-strain Acidophilus and Bifidus dietary supplements at affordable prices. CP-1 is our best-selling product with high bacterial count, broad-spectrum formulation and high viability of friendly bacteria which all contribute to its effectiveness.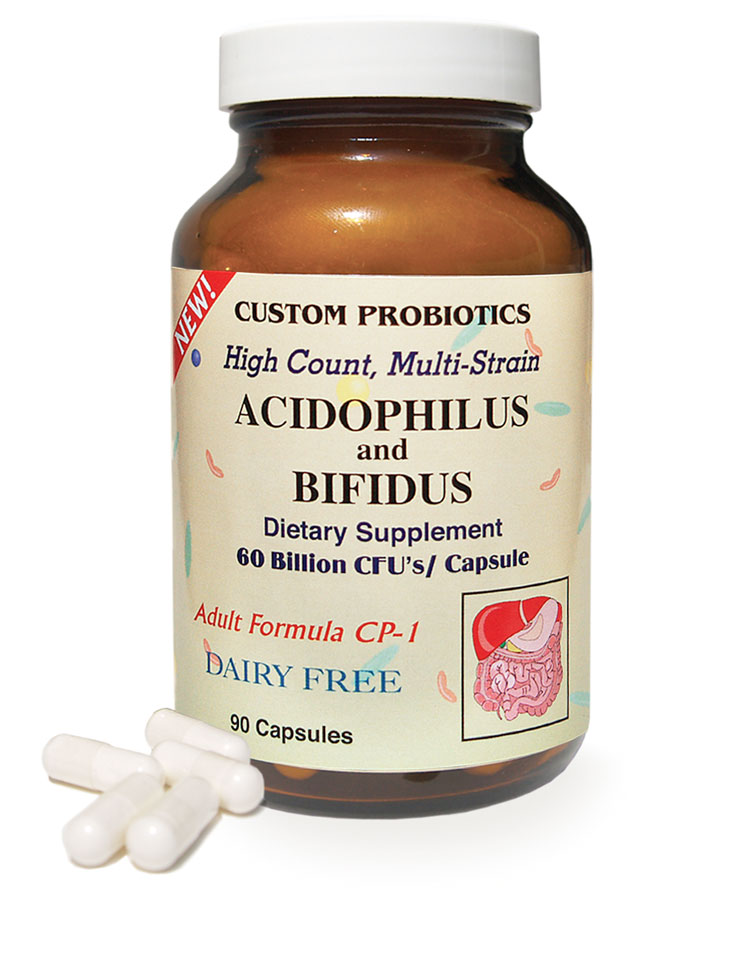 Probiotics are defined as "live micro-organisms" which, when consumed in adequate amounts, promote health benefits. Probiotics play an important role in human nutrition and health, and in balancing the intestinal microflora naturally. Health benefits of probiotics include: maintenance of the normal gut flora, alleviation of lactose (milk-sugar) intolerance, improvement of digestive processes and absorption of nutrients, and stimulation of body's immune system.
Probiotics are now widely used in many countries by consumers and in clinical practice and their health benefits are being investigated extensively, especially in the last few decades given their favorable safety profiles.
Our CP-1 probiotic capsule formulation is unique and highly effective for the following reason
CP-1 contains five superior strains of freeze-dried probiotic microorganisms with a total bacterial count of 50 billion per capsule guaranteed at date of expiry. These strains are L. acidophilus, L. rhamnosus,L. plantarum, B. lactis and B. bifidum, and are most specifically helpful to the small and large intestines. To be effective we feel that a probiotic supplement should have a high bacterial count and a blend of different genera. Our independent laboratory test results indicate around 70 billion* total bacterial count per capsule at the time of manufacture. This count is much higher than claimed to be found in most probiotic products on the market today.
Our CP-1 Acidophilus and Bifidus supplements are non-dairy, hypoallergenic, and do not contain any artificial colors, flavors, preservatives, sugar, wheat, gluten, soy or FOS. (All FOS contain free sugar).
Each bottle of our CP-1 Acidophilus and Bifidus supplements contains 90 capsules.
Our CP-1 probiotic capsules are temperature stable. (See temperature stability curve next page). However it is best to keep bottles tightly closed and refrigerated to retain maximum potency.
Our CP-1 Acidophilus and Bifidus probiotic capsules meet the following requirements:
Exert a beneficial effect on the host
Are nonpathogenic and nontoxic
Contain a large number of viable cells
Are of human origin
Are capable of surviving and metabolizing in the gut
Remain viable during storage and use
Are antagonistic to pathogens.
Highest Potency and Quality Probiotic Supplement CUSTOM PROBIOTICS CP-1 50 Billion Microorganisms Per Capsule *Lab results may vary for each batch.