Important Shipping Information:
Custom Probiotics orders are shipped from Monday through Friday.

Overnight orders are shipped on Monday, Tuesday, Wednesday and Thursday.

(No overnight orders are shipped on Fridays)

Overnight orders are delivered next business day. No Saturday delivery by Fedex unless requested by phone or e-mail at an additional shipping cost.

Orders are usually shipped within 1-2 days from the date of placing the order Monday through Friday.

For very urgent or expedited shipments please order by calling us toll free at (800) 219-8405 or by

e-mail

.
---
All orders to India, the recipient is liable for all duties,taxes
and other fees calculated by Indian customs.
---
Our Custom Probiotic supplements are shipped via

or

anywhere in the USA. All International shipments are shipped by

or US Postal Service Express Mail

.
Orders will be shipped 1 to 3 days from the date of receiving the order. For very urgent or expedited shipments please order by calling us toll free at (800) 219-8405 or by Email. FOR FAST AND PROMPT DELIVERY PLEASE USE OUR FEDEX DELIVERY OPTION DURING THE ONLINE CHECKOUT PROCESS!
Carrier

Estimated Delivery Period

Estimated Price Range

2 business days guaranteed within the USA


(Saturday

and

Sunday

are NOT business days)
$10 - $25

2 - 3 business days within the USA

$5 - $11

About one week for international shipments

$40 - $60

Exact shipping charges vary depending on the size of the box, weight and location
Canadian Orders:
For all Canadian orders, please contact: Greg Gharibian
Custom Probiotics Canada

Tel: (416) 786-0220 Web: www.customprobiotics.ca Email: Info@customprobiotics.ca
European and International Orders please contact us at +1 (818) 248-3529 STORAGE: Our probiotic formulations must be refrigerated to maintain maximum potency. You can, however, travel with our probiotic supplements unrefrigerated for two to three weeks with minimal bacterial count reduction.
Temperature Stability Data: Below is a graph of a two year temperature stability study that we have conducted at room and refrigerated temperatures. As one can see, at refrigerated temperature the potency loss is negligible. While the loss at room temperature within a few weeks is very low. We can therefore assure you that the quality of our very high potency probiotic dietary supplements will not be compromised. However, we suggest that you refrigerate our probiotic capsules and powders upon receipt, in order to retain their maximum potency up to one year from the date of receipt.
Custom Probiotics capsules and powders are temperature stable for 2-3 weeks.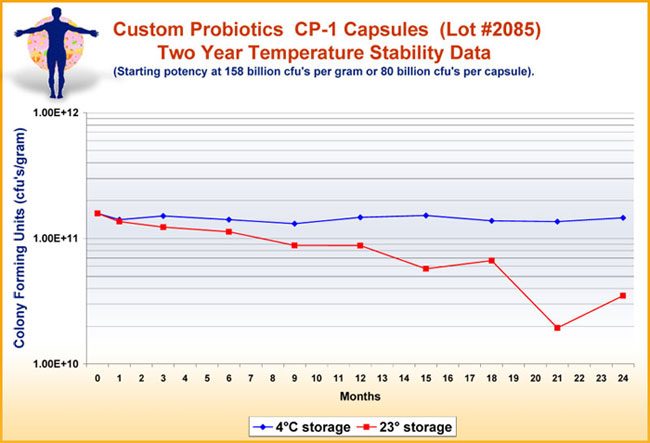 Please contact us for further information or clarifications about shipping charges.