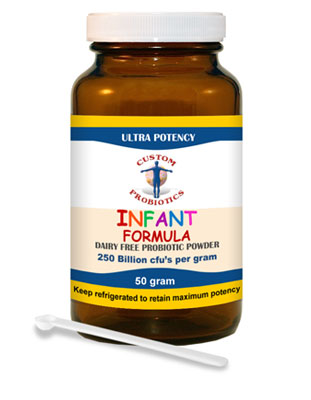 Infant Probiotic Formula
Infant Probiotic Formula by Custom Probiotics
During the first three years of life the gut is in a stage of formation. Custom Probiotics has formulated an Acidophilus and Bifidum probiotic specifically for infants ages 1-4 to improve the intestinal microflora during this crucial growth stage
DESCRIPTION
High Count, multi strain Acidophilus and Bifidus dietary supplement. 250 billion cfu's /gram.
INGREDIENTS
L. Acidophilus
L. Rhamnosus
B. Bifidum
B. Infantis
Our probiotic formulations do NOT contain dairy, sugar, gluten, soy, corn, casein, yeast, artificial colors, flavors, preservatives, FOS or any Genetically Modified or engineered ingredients.
DOSAGE SUGGESTIONS:
Please click here
STORAGE / TEMPERATURE STABILITY
Our probiotic supplements are temperature stable for 2-3 weeks without refrigeration. We have done 2 year temperature stability testing on our probiotics . We overdesign our probiotics so that the loss will not effect the potency indicated on the label. One can travel with our probiotics for 2-3 weeks without refrigeration. It is best however to keep probiotics refrigerated for optimum potency. Below is our 2 year temperature stability study for your information.